Links:
---
Home
---
Products:
Headphone Amplifiers Cables Chips & SOIC Adapters
---
Buy Now:
XM6 Amplifier XM5 Amplifier XM4 Amplifier Cables Chips & SOIC Adapters Lithium Battery & Charger
---
FAQs:
XM6 Faq XM5 Faq XM4 Faq Payments & Shipping Shipping Costs
---
Photo Gallery:
XM6 Gallery XM5 Gallery XM4 Gallery
---
Downloads
Satisfaction Guarantee / Warranty
Why Buy?
Contact Us
---

Copyright &copy 2015 Practical Devices Corporation. All rights reserved.


---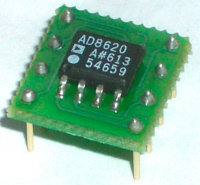 Practical Devices is pleased to offer a collection of SO-8 amplifier chips premounted on "WhiteCat" SO-8 to DIP-8 adapters.

The WhiteCat is nearly identical to the "Browndog" adapter, but has slightly smaller outside dimensions than the Browndog, allowing it to fit into tighter spaces.

Although the WhiteCat adapters were designed for use with the XM4 and XM5 Headphone Amplifiers, they can be used on other brands of amplifiers which have an 8-pin DIP socket.


Buy Now:










Empty WhiteCat: Solder on your own SOIC8 chips. HASL finish. Gold-plated pins. Outside dimensions are smaller than BrownDog (see dimensioned drawing below), so it'll fit into tighter spaces. Minimum order quantity is two.






Shipping cost to USA, Canada, and all other countries is $4 USD, for any quantity of WhiteCats and cables.



Dimensions of all WhiteCats: Will fit any 8-pin DIP socket.


Pin Diameter = .017"
Pin Spacing = .100"
Pins are plated with 10µ" of gold.
Installation instructions are included.
---