---
Tersus™ Interconnect
by

Practical Devices Corporation



We are proud to publicly offer this audiophile-quality 4.75" long (approx. 8" tip-to-tip) interconnect cable with gold plated 1/8" (3.5mm) plugs. This cable is typically used to connect a portable media player to a portable headphone amplifier, but can be used for any audio equipment.
Previously only available as a bonus accessory to the XM6 and XM5, this cable is now available for individual purchase. It provides audiophile quality without the sticker shock.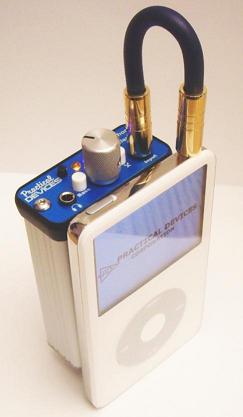 Just the right length (4.75") for connecting your portable audio player to your portable headphone amplifier
Gold plated connectors for the best possible link
Straight-through connectors (as opposed to right-angle) to maximize pocket space
Hand made and rigorously tested to ensure trouble-free use

Never have a cable longer than it needs to be. Extra length means extra pocket clutter and tangle. Extra length means extra electrical losses. More length picks up more noise. All of these factors degrade sound. For the best sound, use the shortest cable.

Gold plated connectors are crucial for thorough conductivity. Additionally, gold is immune to oxidization, adding to the lifespan of the cable.

Excellent wire is critical for an excellent interconnect. We use ULTRALINK DISCOVERY® Advanced Performance High Resolution Directional Twisted-Pair Double-Shielded Audio Interface cable - a solid performer.

This cable is hand made by the same people who sell it. We are extremely proud to bring you this interconnect, and care deeply about its quality, and your satisfaction.




Money-back Guarantee

Practical Devices Corporation guarantees you are completely satisfied with your interconnect. If, for any reason, you are unsatisfied with it, you may return it for your money back, including original shipping. (The fine print: Cable must be returned within 30 days; Cable must be returned in the same undamaged, good working order as it was received; Practical Devices will refund the original cost, plus the cost of the original shipping. Customer must pay for return shipping cost.)




** ALSO AVAILABLE IN A 6-Foot (1.83 Meter) VERSION **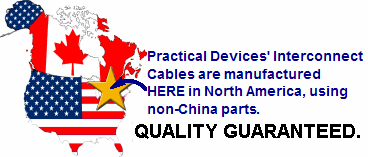 Buy Now: 3.5mm gold-plated Interconnect cable.




Shipping Cost for cables is always $4 USD, for any quantity, anywhere in the world !
Shipping & Handling:
&nbsp
Cost $US
Service
Approximate Time
Insurance
Tracking Number
Taxes, import duties, etc
To U.S.A.





$4
Expedited Airmail. Delivered by USPS.
2 to 12 business days, depending on location
Included
No
None
To Canada



$4
Expedited Airmail. Delivered by CanadaPost
1 to 7 business days, depending on location
Included
No
None
To Worldwide

$4
International Airmail. Ships to every country on earth
4 to 14 business days, depending on location
Included
No
Any import or brokerage fees, taxes, duties, etc, which your country may impose are the sole responsibility of the buyer.
---